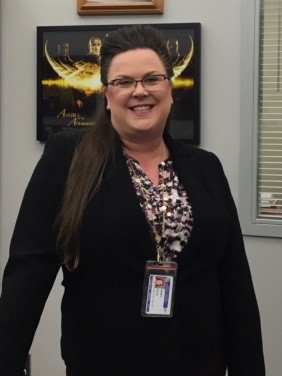 Director
Wendy K. Silva – Biography
Wendy Silva began her career with Stanislaus Regional 9-1-1 (SR911) in 1995. She was hired as an Emergency Dispatcher, first learning Call-Taking procedures and working her way up to a radio position dispatching Modesto and Stanislaus County fire resources. She later cross-trained on Modesto Police radio channels and Stanislaus County Sheriff's Department channels, which includes the Stanislaus County Probation Department, and the contract cities of Hughson, Waterford, Patterson and Riverbank Police Agencies. In 2001, Wendy was assigned to the position of Communications Training Officer. She took on the role of training new dispatchers and call-takers, as well as the responsibility of Acting Supervisor.
In 2009, Wendy was promoted to the position of Dispatch Shift Manager (Manager III). In this role she provided direct supervision of dispatch personnel, wrote and updated policies, recruited and selected future dispatchers and call-takers, and provided support necessary to operate the consolidated emergency dispatch center. Wendy was promoted to the position of Operations Shift Manager/Technical Services Division Manager (Manager IV) in 2014. Her title was changed to Deputy Director in 2018 to better reflect her duties and responsibilities within SR911.
In January of 2019, Wendy was appointed as Executive Director of Stanislaus Regional 9-1-1 (SR911). She is responsible for the management and oversight of 9-1-1 dispatch services and the public safety radio systems for 22 Law Enforcement and Fire Agencies within Stanislaus County.
Wendy possesses a Bachelor of Arts Degree in Sociology from California State University, Stanislaus. She is Peace Officer Standardized Training (POST) Certified, California Law Enforcement Telecommunications System (CLETS) Certified, and highly trained in the Incident Command System (ICS). Wendy is also an active member with the National Emergency Number Association (NENA), and the Association of Public Safety Communications Officials (APCO).
Throughout her career, Wendy has dedicated herself to serving her SR911 staff, partners and the communities of Stanislaus County. She strives to provide quality service, through commitment and dedication to the safety and welfare of our great community.